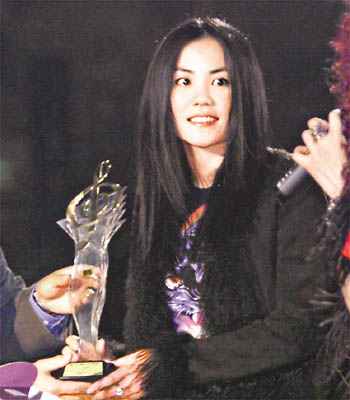 26 Feb 2000 -- There is two J-phone commercials released this week, you can download them from the J-phone homepage. There will be new commercials released all year so stay tune for some more.

24 Feb 2000 -- Today "All About Ah Faye" had its 10 000 visitor. Thank you everybody who visited my site, you are my inspiration to continue work with my website about Faye.

24 Feb 2000 -- My postcard section is open now. Go there and send your favorite Faye pic to your best friend :)

23 Feb 2000 -- Sudden Weekly had an article about Faye and her commercials a few days ago, you can see the scans here. You can also read about it in their online magazine by clicking this link.

22 Feb 2000 -- The "Teenage songs" section at Singapore Fayenatics Home has been updated with 15 more songs, from 1985 ­·±q­þ¸Ì¨Ó - "Where is the wind comes from" album.

22 Feb 2000 -- I'm sorry for the lack of news recently, but there is really nothing to tell you. And now after some of the best English news sites more or less died it's really hard to get anything about Faye and I don't like writing about gossip. Can't wait until Fayenews opens. Anyway, Faye is supposed to be in Las Vegas with Na Ying on vacation so I hope they have a great time. And the VCD and DVD is out now, also in Singapore :) And one more thing, today is my birthday :)

13 Feb 2000 -- Sianz has opened his new excellent website APPAREL. With his knowledge and graphic design he approches Faye from a new angle. It's a must to visit this site, go there now!

13 Feb 2000 -- "Moon at That Moment" (·í®Éªº¤ë«G) spend its 7th week on Aiyiya Top20 but felt back to place No. 17 from last weeks place No 6. Lets hope Faye get back up again next week.

10 Feb 2000 -- You can download Eyes On Me performed by Faye at the Japan Record Award last year, thanks to Steve at Singapore Fayenatics Home.

8 Feb 2000 -- Faye and Tong are back in Hong Kong after being in Beijing where they celebrated the Chinese New Year. Sianz has got some pictures, you can view here.

7 Feb 2000 -- There is a new Fayesite under construction that will cover news in seven European languages, they are English, Dutch, German, Spanish, Portuguese, French and my language - Swedish :) The site will be called Fayenews and the grand opening is on Mar 23. If you want to contribute, drop me a mail and I'll forward it to the webmasters.

6 Feb 2000 -- Apple Daily had a nice pic of Faye the other day, you can watch it here (114 kb).

5 Feb 2000 -- Faye has a new song called "¤S¨£ª¤·Ï", but that's about what I know. It's not out yet and I don't know when it will be out. Anyone who knows more, please fill me in.

5 Feb 2000 -- Faye was late for the Channel V award in Beijing, talking to much to Na Ying ... but I heard she broke her shoes and had to change all her cloths, so that was why she was late. There is an article in Chinese in Cyber you can read. Also, visit Sinanet for some more pics.

5 Feb 2000 -- ·s¦~§Ö¼Ö
Happy Chinese New Year

3 Feb 2000 -- Steve at Singapore Fayenatics Home has uploaded Eyes On Me from the newly released VCD for download.

1 Feb 2000 -- This is no news really, but anyway. Dick Wong has made some exellent wallpapers, visit his wallpaper page and download what ever you like.

1 Feb 2000 -- As I already reported, the VCDs are out now in Taiwan and Hong Kong as well. You can preview "Opening" video from the HK Scentic Tour VCD thanks to Singapore Fayenatics Home.