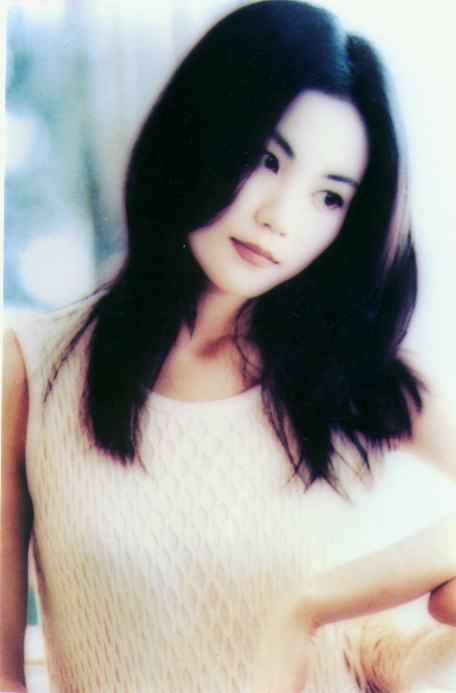 31 Mar 2000 -- The Sun HK has an interview with Dou Ying (sister of Dou Wei) today, you can read the article here. Didar made a translation into English and it goes as follows:
Dou Ying received an interview in Beijing and talked about Faye. She said Faye is very very intellectual, maybe not many people will believe it, but her faveorite pastime is to read and she read those philosophy books and tries to understand the meanings. Dou Ying said she's not a shallow minded or uneducated person.

She also said Faye has natural coolness and this is not packaged by the company or pr company, its her own traits and they know how to make use of this, Faye is never a packaged artiste. she succeed thrughout her own charisma and talent.

People said Faye always go pubbing, Dou Ying said this is not true. She said Faye only goes once in a while. Faye is a very very friendly person, her entertainment is the same as everyone of us here. she doesn't show airs of being a "millionaire" too, she's just as common as everyone of us.

Tongtong is Faye beloved, she occupies faye 80% of her life!!! She's a good mom, there's nothing else to say. Her importance is Tongtong now, for her, Faye can be a traditional female and is a good and superb mom.
31 Mar 2000 -- Not much to report the last few days ... good time for vacation. I'm going away to Indonesia and wont be back until April 10, so there will be no news updates during this time. I like to say THANK YOU to everybody who visited my pages and please come back soon :) And don't forget to support Faye - always.
28 Mar 2000 -- Faye in glasses - not very unusual. This time in "Chole". View the add here.&nbsp&nbspSource: Cecilia
27 Mar 2000 -- Steve made some more recordings from TV (what would we do without this guy?) It's the TVB-program "I-files" reporting on Faye-Nicholas rumour and three parts about the declaration written by Faye. Part 1 || Part 2 || Part 3&nbsp&nbspSource: Singapore Fayenatics Home
27 Mar 2000 -- If you read Chinese there is some news about the "2046" movie to read at these two links. Link 1 || Link 2
27 Mar 2000 -- Today Faye published a letter in 1000 words to the press about what she thinks about them. You can read a rough translation (made by A Po) and Ah Foon's comment here and view the fax here.&nbsp&nbspSource: Fayenews
27 Mar 2000 -- Faye's letter, original Chinese version.&nbsp&nbspSource: Star East Net
25 Mar 2000 -- Steve has uploaded RA-files from the TV-show "Pearl of Asia Shines on Tianjing" (ªF¤è¤§¯]Ä£¬z«°) tonight. Download them here. Hypnotize (¶Ê¯v) || Passing Cloud (¹L²´¶³·Ï) || The End&nbsp&nbspSource: Fayenews
25 Mar 2000 -- According to a china newspaper, Zhang yadong is busy composing the music for Faye's new mandarin album at home. He will be responsible for half of the music of this album. These five songs will be composed of different sound effects to resemble moive music. Read the news here.&nbsp&nbspSource: Fayenews
24 Mar 2000 -- Last Year CNN did a interview with Faye Wong and can now be download if you still haven't seen it. The interview is all done in English and it's interesting to see how the interpreter messed up with the translation in the second section. You need Windows Media Player 6.4 to view it. Part 1 || Part 2 || Part 3 || Part 4.&nbsp&nbspSource: Fayenews
23 Mar 2000 -- Faye is nominated in "Taiwan Golden Songs Award" as the "Best Female Vocalist". TVB HK will broadcast the show from Taiwan on Saturday March 25 9.30-11.30 pm, local time. &nbsp&nbspSource: Fayenews
23 Mar 2000 -- Fayenews is open now. Go there for the latest and greatest news about Faye in your local language. Currently news are presented in English, French, Chinese and Japanese. More is to follow soon.
21 Mar 2000 -- Check out those glasses! Really cool.
21 Mar 2000 -- Our Faye went back to Beijing for new album recording! :) Also, Faye will appear in a show on Mar 24 or 25 which is organized by TVB HK. Btw, Nicholas Tse was on the very same plane to Beijing ... &nbsp&nbspSource: Didar-natic
21 Mar 2000 -- I have 4 new pics for your viewing pleasure. Pic 1 || Pic 2 || Pic 3 || Pic 4
20 Mar 2000 -- If you like your cell phone to play Faye's songs, there is another site here with some more songs to enter into your Nokia or Ericsson.
20 Mar 2000 -- At the radiostation "P3" in Sweden you can listen to Faye's music tonight in at 20.30.
18 Mar 2000 -- There is an report in Apple Daily from the "Golden Disk Awards".
17 Mar 2000 -- In Sudden Weekly you can read about Dou Wei's father who will right a book there he says he wants Dou Wei to fall in love with Faye again. Read the article here.
17 Mar 2000 -- GrooveAsia has a short note about the Golden Record Award in Japan, they say All Eyes are on Faye Wong!
17 Mar 2000 -- The anoying romours about Faye and Nicholas Tse has reached MTV Asia now. But this article is in English so I will provide a link anyway.
17 Mar 2000 -- Cecilia has put up a lot of nice scans from Weekend Weekly on her homepage. Go there and take a look.
16 Mar 2000 -- Faye recieved her "Golden Disk Award" yesterday wearing a black dress and performing "Eyes On Me" - of course.
16 Mar 2000 -- TVBS News have a realvideo clip on their webpage from Faye's depature from HK to Japan, you can download it here (673 kb).
14 Mar 2000 -- Get the J-phone Calender 2000! Thanks Odun for this gem.
13 Mar 2000 -- View the front and back cover to "Music Is Live" VCD here.
12 Mar 2000 -- This page is great, it was posted in the newsgroup. You can have your handy playing Faye's songs, typing instructions included.
11 Mar 2000 -- Fayefan found a website suggesting that the movie Faye is makeing, "2046", might be renamed to "Beijing Summer".
11 Mar 2000 -- Get the exclusive video clips from Music Is Live concert here!&nbsp&nbspSource: Singapore Fayenatics Home
11 Mar 2000 -- I found two more pictures for the J-phone adds, you can look at them on my J-phone page. More nice J-phone pics can be found here.
10 Mar 2000 -- Faye was awarded the Golden Disk Awards in Japan for the EP "Eyes On Me" to become "the best selling EP in 1999". "Eyes On Me" were totally sold in 5 million copies, better than Micheal Jackson and Ricky Martin. On Mar 14th, Faye will go to Japan to receive this award and also shot one promotion.&nbsp&nbspSource: Fayenews
10 Mar 2000 -- HK Commercial Broadcasting has posted the "Faye Random Thoughts Concert" from 1994 on their homepage, you can download or listen to the 15 songs here.
10 Mar 2000 -- The 41st Japan Record Award 1999 (held in Japan on 31st Dec) realvideo can be downloaded here.&nbsp&nbspSource: Singapore Fayenatics Home
10 Mar 2000 -- Faye has droped down to 22nd place on the Global 100 Female Star top-100 list, vote for Faye by clicking the

button.
10 Mar 2000 -- At this weeks Aiyiya Top20 "Moon at That Moment" (·í®Éªº¤ë«G) is still on 19th place. Faye has been on the chart now for 11 weeks, longest of all entries.
9 Mar 2000 -- Somebody posted this link to Next Media Interactive in the newsgroup. It's a lot of nice pictures of Faye, well worth a visit.
9 Mar 2000 -- This is a little bit old news, but I found it today :) It's an interview with Faye on MTV Online from Oct 29, 1999 about her (then) newly released OLS album. Go here to read it (Big5).
8 Mar 2000 -- Faye is going to shoot a shampoo ad according to Ah Foon who talks to the media after talks that have been going round stating Kelly Chan replacing Faye in Pepsi Ads. Can't wait to see that commercial :) The news is from DaChengBao (Taiwan).&nbsp&nbspSource: Singapore Fayenatics Home
Didar has translated the article, you can read it here.
8 Mar 2000 -- The award show in Japan will be broadcasted live on NHK (Hivision) Mar 15 from 18.00 and also on NHK (BS2) from 20.00 (Japanese time). A repeat show will be broadcasted on NHK Mar 18 from 23.00-0.40 (Japanese time).&nbsp&nbspSource: Singapore Fayenatics Home
7 Mar 2000 -- Faye has won yet another Japanese award, the Golden Disk Awards, which will presented to her Mar 15. The event will be broadcasted live in Japan.
6 Mar 2000 -- You can now get the "Eyes on Me - Live at Budokan" Video Clip (15 MB!) as well, thanks to Singapore Fayenatics Home
5 Mar 2000 -- Pepsi has exchanged Faye for Kelly Chan from now on. No more Pepsi cans with Faye on :(
5 Mar 2000 -- If you live in Sweden you can see Chungking Express on Channel 1 (TV1) tonight.
4 Mar 2000 -- Enjoy - Rare Songs at Singapore Fayenatics Home is updated with "Jingles" from Virgin Airline Promotional CD and "Eyes On Me" - Live at Budokan ªZ¹DÀ].
3 Mar 2000 -- Looks like Faye spent some money at Bellagio while being in Las Vegas, at least according to Next Magazine.
3 Mar 2000 -- A few days ago I told you about Sianz new section Apparel. Today I learned he closed his website exept for this section :( To bad, another good Faye site down the drain ....