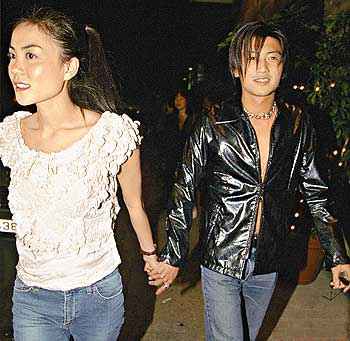 30 Jun 2000 -- Great pics from the Melbourne concert.

30 Jun 2000 -- Pics from Melbourne concert, thanks to Matthew. Go here to view them.

30 Jun 2000 -- Didar has posted an interview with Faye from Sydney that she gave before the concert on June 29. It's in two parts, Part 1 (1,5 MB) and Part 2 (1,3 MB). Here is an translation into English.
"Hi, everyone good.. It's my first time to Sydney.. Don't know what to say but hope tomorrow's concert will be successful." Asked her how was Melbourne's concert last night? How's the audience? What's the different between Australia fans and other asian fans? (Wah.. take it easy.. so many questions at one time!! In a rush?) Faye replied "I did worry before how they will react as I never been to australia for a concert before. But before I perform yesterday I saw the place is filled with neon sticks and whistle so i'm not worried as they seem to be having fun".

"As for fan's reaction I can't really hear them as I'm wearing the headphone. But they will wave their neon sticks and I feel they are happy".. Audience called the radio asking if Faye will sing old songs.. Faye said will have old songs but most are mandarin songs and will sing other singer's songs too. Then asked how's the weather in Melbourne? If Faye have a chance to encounter the weather.. Faye said "of course la.." they think Faye wear space outfit.. don't encounter weather?.. Faye said the weather is almost the same as Sydney.. not much sun..

Faye said her new album will be out end of august or beginning of Sept.. Faye said so can trust! ahhaa.. Faye don't know which main songs to plug yet cause still haven't finish recording all yet. It's a mandarin song but will have cantonese song!! THANKS GOD!! Ask if Faye is changing her image as her australia concert poster very different for the others.. Faye said "I don't think I have changed my image.. just that it's a concert poster so want to pick one that is a happy image so pick this one"

"I don't think i'm a very professional actress.. so I don't accept many movies.. I don't have much confident. CKE is successful because the character match my personality.. not because I have great acting skills.. hehe. As for 2046, WKW can give me confident and make me feel like I can really act.. just try for fun.. not trying to get into the movie industry.. my acting is good or not is not important to me.. I try my best so see how it is loh.. I am involved because of the director. He choose me for the character because I can naturally act the role and the character suits me. I still think singing is my strength not acting."

"Last album also have my composition.. actually all my albums don't have a theme.. But the new album is kind of unique because in beijing we composed 5 songs and these songs are kind of like movie theme songs.. (WAH.. Getting exciting!!).. It's meant for a short clip.. So we will use all 5 songs to make a short clip.. all 5 music and lyrics are related. This is what we will try that is different from previous album. Hope it will be successful."

After the concert Faye have nothing else to do in Sydney but no time to stay cause have to go back to do other work.. lots of things to do. Asked if tong want to be a singer when she grow up.. what will Faye do? Faye said she will not get in the way of what tong want to do.. she will give her advice to help but will not help her choose her career.

Asked if Faye have a big influence on Tong? Faye said she think will have a little.. reporter said that when tong at airport will ignore reporters or make funny face at them... Faye said "she's born that way.. if you're born like her with so many camera flashing at you everywhere you go.. then of course you will be annoyed too.."

Asked if Faye will always bring tong when she go out to have concert? Faye said "not all the time.. must see her schedule".. everyone laughed and one joked "so tong's schedule made by ah foon too".. I laugh like crazy.. I think so! ahha.. Ask what attract her to come to sydney for a concert? Faye said "we plan a tour and australia is one of the stop.. so everything planned by the manager".. Ask where she will go next? Faye said got some in china still.

Ask if Faye will have more duets in her future albums? Faye said "I won't plan it.. if got good partner and good music I don't mind".. Asked if any commercial Faye will accept or especially will like? Faye said she like some of her commercial.. some are quite nice.. Faye said she treat commercial is like work loh.. she will like them.

Faye said right now her schedule is okay.. not too busy that she don't have time to do other things. Faye said promotion and making album is most busy.. movie and commercial she hardly do la.. at least good and she have confident.. and Faye don't think she will release an english album yet.

Then asked if her love life will interfer with her work.. Faye said "No.. it never have and never will".. wah so good to hear this!! So don't worry la.. hehe. Then got 3 fans won the competition.. they must act like Faye ma.. so these 3 won loh.. so Faye present the award (I say reward man!! to them and Faye take pic with each one!!
&nbsp&nbspSource: Didar-natic

Today's news links:
Show8
Show8 (this page has super-cool pics of TongTong playing drums!!!)
Chinatown.com

29 Jun 2000
Today's news links:
Wen Wei Po Daily
Sina.com
Sun Daily
Apple Daily
Show8

28 Jun 2000 -- Raymond Ho in Australia wrote a report from Faye's Melbourne concert, you can read it at Fayenews. Didar wrote this report from the concert in Melbourne.
"Faye is very very very very good, I don't know how many times I must say, but tonite she's very very very good. her voice is superb" (as always cause concert she put more effort..)

The Fayenatics in 2nd row.. very good view of Faye. However, Melbourne audience is like Japan audience la.. they like to sit and listen to Faye's music instead of making lots of noises.. you know what I mean? hehe.. It's the same as in USA or Canada concert..

The clothing and song list is the same as nanjing concert but of course talking part is different.. But Faye didn't wear the "tarzan" clothing in Melbourne. I can't believe Faye wore so less.. it's winter!!! The Fayenatics wearing THICK jackets when watching.. and Faye is on stage with black tube top!! She better take care man..

Faye wore the latest bell bottom pants & black tube with those white "paper" cuts like overwear instead. We see in newspaper today la.. Also nothing to buy for this concert.. Faye not selling anything outside coliseum this time. But the concert got give out booklet, neon sticks and whistles for FREE. Then of course the Fayenatics just help themselves with the booklet. hehe.

"Yes, Faye so cute man & more lively now. After the 1st 3 songs, she started talking as usual. she said how're you, how's everyone. hmm should I use mandarin or catonese, so I was shouting mandarin but those shouting cantonese louder mah. then she said in mandarin, i'll speak mandarin, then in cantonese, I speak cantonese, so her conversation is really 1/2 mandarin, 1/2 cantonese. She said she prepared lotsa mandarin songs in mandarin, then she also prepared lotsa cantonese songs in cantonese, so funny."

"The 2nd talking part, Faye asked if we got anything to talk to her, everyone yelled like hell, hi hi hi. so Faye said we can't go on like that woh, if we continue to say hi hi again & again, then we can go on for the whole nite, nothing to say, we continue singing again ok?

Then someone yelled, Faye, you're so pretty, Faye immediately replied thank you, so you see she choose what she wants to hear lah."

"The last costume is the patches of cloth costume, its not white as we see in the online pics, there's 2 patches of blue, shades of pink & then white. her shoe is high heel with "feather" behind on the heel part, very cool man. she did her hair up & Faye looks very elegant, so breathtaking, she's very very beautiful tonite. & she's in extremely good shape man... her voice is remarkable."

There's no 3rd talking part, she just said thank you to everyone who came for the nite, hope everyone got good time etc, its the same std talk, nothing that's new loh.

You won't believe how good her voice is tonite & I doubt she trains for her concert at all. she is so lazy yet she sings so well, very good indeed. after coming so far, I'm very satisfied with her performance. The 3 Japanese fans said she sings so much better than the Japan concert.

"The stage is indeed bare man, nothing at all, just plain empty. But the lighting effect is good & the sound system is good woh. So we got quite clear recording.. Faye didn't have many hairstyle changes as well. She let her hair loose 1st, then tie into a 1/2 little pony tail, then the next one is a full pony tail & the last one is her pony tail up, like having a bun on top but not really. She looks really elegant, I assure you.

Guess what, she sang a few songs wrong ... as usual she covered up by grinning - but can't bluff us for sure! Oh, back to the songs which she sang wrongly - e.g. 'se-jie', 'tian-shi', 'zhi-mi-bu-hui' & 'an-yong'. The worst is se-jie when she paused & skipped 2 lines. As usual, she turned to smile at us and her band and continued after the next verse. (Faye not perfect la.. lyrics is hard for her to remember but it's always so cute when she forget them.. But as long the overall performance is great then good enough!)

She wore a stripeless top for the 2nd outfit. As a routine, she had to keep pulling it upwards whenever her back is facing us. Actually, I expected the crowd to be very spontaneous but we couldn't even stand up at all coz people behind would start making noise. I felt so restless coz not used to not dancing at our seats to the fast songs. Sigh ... hopefully the Sydney crowd would be more rowdy.
28 Jun 2000 -- Update on www.990.net. You can download a RA-interview (+6 MB) with Faye from the site. You can read a English translation of the interview here.&nbsp&nbspSource: Fayenews

Today's news links:
Netvigator
Sina.com Ent
Sina.com

27 Jun 2000 -- There is an official site from the Nanjing concert. Well, not official actually, just set up by the china web site www.990.net, which reportedly paid 200,000RMB to do exclusive interview/reporting of Faye in Nanjing! Read about Faye here.

The VIDEO, text and pics of an online chat can be found here, and a "very detailed" set list here. Many other pics at this site.. check it out yourselves! :)&nbsp&nbspSource: Steve

Today's news links:
Sina.com

26 Jun 2000 -- Faye's Nanjing, China concert is a success. Faye will be heading to Melbourne, Australia for her June 28 concert next and then to Sydney on June 30. Didar has some more news from the concert in Nanjing, you can read it at Fayenews.

Today's news links:
Sina.com Ent
Sina.com Dailynews 1
Sina.com Dailynews 2
Sina.com Dailynews 3
Yahoo China
Show8
Show8 - Last two weeks newslinks

25 Jun 2000 -- After a half year break from concert shows, Faye staged her full-house concert in Nanjing yesterday.

She has new outfits for the concert. It was a humid day in Nanjing yesterday asthere was a rain just before the concert starts. Though there were still lots of people selling over-priced tickets and fake tickets outside the concert venue, but the organisers and the authorities collaborated well and the concert is a success.

Faye was wiping off her sweats from her face on and off during the concert and finally she told the crowd,"How are you guys feeling? I think I'm melting soon!"&nbsp&nbspSource: Fayenews

The first pictures and articles from the Nanjing concert is available, mostly thanks to Steve.
|| Sina.com 1 || Sina.com 2 || Sina.com 3 || Sina.com 4 || Sina.com 5 || Sina.com 6 || Sina.com 7 || Sina.com 8 || Sina.com 9 || Show8 || Show8 || Apple Daily || Sun Daily || SingTao ||

25 Jun 2000 -- Ricko posted some nice scans from a Hong Kong magazine featuring "The Pepsi Woman". Take a look here.

24 Jun 2000 -- Steve has posted all 172 YES cards in 8 zipfiles, ready to download. The cards are oiginally from YES card gallery.
|| Zip 1 || Zip 2 || Zip 3 || Zip 4 || Zip 5 || Zip 6 || Zip 7 || Zip 8 ||

24 Jun 2000 -- Show8 eRadio has an update on Faye's concert in Nanjing. The English translation goes like this.
Faye is going to have Nanjing concert today. Supposedly Faye should had a rehearsal yesterday, but since there already 6 thousands people want to get in to watch Faye to have rehearsal and suggested not go attend.

Finally she did attend because she didn't have concert for half year. After 4 songs she had to leave due to people are too crazy. They even trying to climb the wall to get in to the concert hall.

Also I heard there will be 30 thousands people trying to get in to the concert but the hall can only hold up to 20 thousands people. Kind of dangerous for Faye huh? But Faye are staying at the top floor of the hotel and security are tight and everywhere even in the stairway where the floor Faye stays, so it's quite safe forher.

Even Ah Foon couldn't get back to the hotel because she forgot her pass. After half an hour of talking with the security guard. She finally can get back to theroom. This news sounds like shocking to me and I hope everythings in this concert goes well. Good luck to Faye and all the crews!
&nbsp&nbspSource: Fayenews

24 Jun 2000 -- Nextmedia has added some more pictures from the Pepsi ad on their site, go there to take a look.

Today's news links:
Sina.com
Lonelyboy.yeah.net
Show8

23 Jun 2000 -- Faye has arrived to Nanjing for the concert on June 26. After arriving she also gave an interview, you can read it at Sina.com.

23 Jun 2000 -- Singapore Magazine "I-weekly" have published four of the following spoof images of Nic and Faye. You can download all 4 of the full size images plus the magazine article scanned in one zip file here (188kb).&nbsp&nbspSource: Fayenews

23 Jun 2000 -- Steve has scanned (or had since before) a fanbook about two years old with some 26 nice pics of Faye. You can download the zipped file or buy the original here .

Today's news links:
Udnnews.com
Show8


22 Jun 2000 -- Starting today I will publish links every day to different online papers that holds information about Faye. They will be mostly in Chinese but if you read Chinese you're cool.

Today's news links:
Easttouch
Express Weekly

21 Jun 2000 -- This must be hottest picture I ever saw of Faye! WOW! Also, read the article about the Pepsi ad from Next Magazine.

20 Jun 2000 -- Check out the lastest image from the Pepsi Ad. This cm will be avalible July in Hong Kong and might be in other places. More pics and news from Oriential Daily.&nbsp&nbspSource: Fayenews

20 Jun 2000 -- British film magazine "Sight and Sound" has an article about Wong Kar-Wai that has some interesting stuff about Faye as well. Go here to read the article.&nbsp&nbspSource: Fayenews

20 Jun 2000 -- There are 5 behind scene clips for the up comming movie "Love Affair in Okinawa" over at Chinastar. Click here to get there directly.
Clip 1 has a few shots when Faye leaving the Airport and pary for the big roast pig.
Clip 2 has Faye make up process and some shots in the scene.
Clip 3 doesn't have much Faye in it. I think it was Faye ask that girl what she is playing.
Clip 4 has no Faye but someone teaching you some japanese.
Clip 5 is the most pertty one. Faye doing photo shoot for the movie I guess.

There is another 4 bonus clip that can be found in here. They have better quality choice and contain more Faye's acting in it.&nbsp&nbspSource: Fayenews

19 Jun 2000 -- I went on vacation and all the fun happens - Nic and Faye together :) I'm happy for Faye! What else happened during last week? Not so much ...
The "Decadent sound of Faye" album from 1995 entered the best selling album RIM chart at # 19 last week!
Pics of Nic and Faye can be viewed at Nextmedia
Faye has written ALL 10 songs for her new album. But the lyrics are written by Lin Xi as usual and for songs production, Zhang Yadong is in charged of 5 of them. Seems that Yadong is a favourite producer in Asia as he has many offers from singers in Asia like Aaron Kwok and a famous singer in South Korea. The album will be released in September. Ream more at Sina.com Source: Fayenews
Faye went to Beijing to practics with her band for her CD recording and the Nanjing concert next week.
9 Jun 2000 -- I'm going away again, vacation in Mexico. Sorry not to be able to update my newspage during the next 10 days, please visit Fayenews in the meentime. See you soon, folks. Take care.

8 Jun 2000 -- Faye arrived in Taiwan from Japan on June 7 night meeting Ah Foon for future Taiwan concert and other bits of things. Of course the media would connect the arrival with Nic Tse... If your Chinese is good you can read about it at Sina.com.&nbsp&nbspSource: Anita C

6 Jun 2000 -- TV station TVB's program "I-file" has a clip from the making of the Pepsi commersial, Steve has made it accessable from Singapore Fayenatics website. Download (2 MB)

6 Jun 2000 -- According to Oriental Daily, Faye said that she has accepted the cast in "Love Affair in Okinawa" due to the director's sincerity. She is also allowed to use her own feelings to act in the movie plus the fact that she gets the chance to work with Tony Leung and Leslie Chueng and the pay for the movie is satisfactory too.

The director of the movie Chan also said that Faye acted very well in the movie. Same praises to Faye also come from Tony Leung. Faye has said that after the filming ends in Okinawa, she'll have to proceed to South Korea to resume the filming of "2046" directed by Wong Kar Wai. Faye also said that the progress of "2046" has been very slow. More reports can be read in The Sun, Show8 and Apple Daily.&nbsp&nbspSource: Fayenews

5 Jun 2000 -- Faye has flown to Okinawa again today to resume the filming of "Love Affair in Okinawa" (formerly known as "Holiday Cop") and seems that she is in a very good mood as she talks a little about her love life besides the normal work.

Faye always talked about work when being interviewed by the reporters, especially her relationship in the movie with Leslie, Tony and a Japanese Kado Gaya. There are lots of chasing scenes in the movie between Tony and Leslie as the former is a cop while the latter is a thief, the reporters twisted the question to ask Faye how is it like being "chased" (they meant courting) Faye knew the twist and answered intelligently,"Must see what kind of chasing lah... if it's chasing after me for debt, then not too good."

When asked about her Pepsi advert being compared against Nicholas's Coke's advert as "rivals", Faye said that these might be just promotion, and she does not care much about it. But she added in personal comments saying that this type of promotion is not very smart of them to think of.

When asked if being approached to film an advert with Nicholas, will she accept, she didn't give a direct answer but just said....see how it goes lor.&nbsp&nbspSource: Fayenews

5 Jun 2000 -- This was posted by Didar in to the mailing list.

5 Jun 2000 -- Faye secretly flew to Taiwan at night on June 3 to see Nic on commercial shooting set!! She was gonna stay at the Far Eastern which is her usual stay in Taipei, but had switched to another 5-star hotel when she heard that Tom Criuse had stayed in Far Eastern. Too bad now it's no more a secret... It's said in the news that EMI Taiwan knew nothing about this visit. The news detail in Mandarin can be read here, and here's the link to the "Secret Date Schedule" in Mandarin.
Translation of the "schedule":
June 2 - evening - Nic flew from HK to Taipei.
June 3 - 01:00 - Nic had snack eating hot and spicy stuff alone, while Ah Foon was at a table nearby.
June 3 - 09:00 - Nic went for commercial shooting in Shi-zhe.
June 3 - 20:00 - Faye flew from HK to Taipei heading straight to Shi-zhe to see Nic on set.
June 4 - 09:00 - Faye rose early to catch a 11:40 plane to get back to HK.
June 4 - 22:00 - Nic held a press conference in Taipei for his Cantonese album release in Taiwan.

Source: Anita C