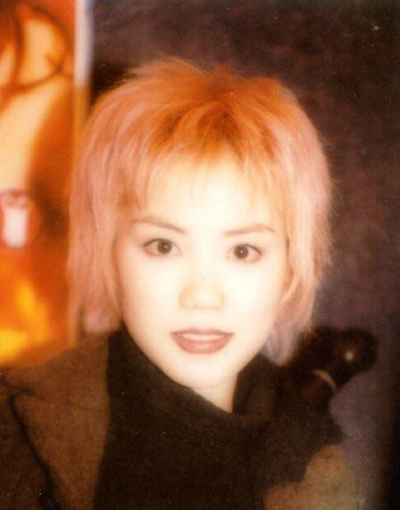 Submit news here or write them in The Forum.

29 Mar 2003

Today's news links:
Sina.com
Ming Pao News
Tom.com


27 Mar 2003 -- If anyone out there has a mobile phone with polyphonic ringtones (16 sounds), then you might be interested to know of a site with some Faye ringtones. It should be noted however, that these are only compatible with phones that use the 'mmf' format (Samsung is an example). You can get Idiot here (no 36) and Wandering red shoes here (no 44).

21 Mar 2003

Today's news links:
Ming Pao News


20 Mar 2003 -- Soon the voting for "Asian Heros" at Time Magazine ends, if you didn't vote for Faye yet, do it now.

Today's news links:
Sina.com


18 Mar 2003

Today's news links:
Sina.com


17 Mar 2003

Today's news links:
Ming Pao News 1
Ming Pao News 2
Ming Pao Weekly
Sina.com
Beijing Music Radio


16 Mar 2003 -- There was an article in some newspaper about Faye entering the recording studio together with Dou Ying, and it has some nice pictures too. You can view the pictures here and the original posting in the Wongfei.org forum here. The posting is in Chinese so if you can't read it don't bother go there.

16 Mar 2003 -- Also the Hero DVD can be pre-ordered now from YesAsia, it will cost US$14.99 and expected release date is March 20. It's the HK release, has 2 DVDs and NTSC, Region 3. Click here to pre-order.

16 Mar 2003 -- Want to listen to the Hero soundtrack? Then check out this link in my forum.

15 Mar 2003 -- A Fayenatics, Alvin in Singapore, translated a recent interview of Zhang Ya Dong and here it is:

Q (Reporter): When is the very first time you collaborate with Faye?
A (Zhang Ya Dong): I wrote a song for her in Tao Hao Zhi Ji(Ingratiate Oneself) album.
Q: It's been almost 2 years since Faye did release any album. Most of us are very anticipated and since you collaborate with her this time, do you mind to tell us about her upcoming album?
A: In term of music, I will use both electric and orchester instrument. The music will be a bit different, not that slow compare to last time. Previously, I focus on my own feeling, the result are too slow (refer to Fable album). Things which are too slow are not easy to comprehend by people. For example, the intro for "The Flower Out There "(Track 5 in Fable album) is long and beautiful, but people tend to asked "why not start singing?"
Q: Seems like Faye really admire your talent. The collaboration between both of you seems to have lots of chemistry. Any comment?
A: Without Faye, I don't have my career today. She helped me a lot, people in Taiwan and Hong Kong know me after I produced her album.
Q: How come both of you can have such a long term collaboration?
A: I know Faye for a long period and we share lots of similarity. We seldom talk but there is trust between us. Faye is a nice person, a very intrepid kind. I salute her for her personality. In fact, I like the collaboration between Faye and Dou Wei too. However, the relationship problem affected them yet I still looking forward for it.
Q: You help quite a number of artists to produce albums, why is Faye so outstanding among them?
A: She is confident. Her confidence influenced people around her. I think she sing very well. She has a very high aptitude.
Q: Is Faye's upcoming album a different one compared to her other albums?
A: I hope so, but not easy especially the sales. So it's hard to say.
Q: Every artist has different habits in the studio, what bout Faye?
A: She don't like to rest during recording. She prefer to complete the recording as planned.
Q: What is your favorite song at this moment?
A: Faye's latest composition - I Love You. Faye handed over to me and I will inlude it in my upcoming album. I like both the lyric and music of this song.

10 Mar 2003
Today's news links:
The Sun HK 1
The Sun Hk 2

7 Mar 2003
Today's news links:
Sing Tao News
Wen Wei Po
The Sun HK

6 Mar 2003 -- Faye yesterday received the best actress award awarded by the Hong Kong Film Critics Society. In an interview afterwoods Faye said:
"I'm not only happy to get this award but it's also a complicated feeling because I still don't understand why this award is given to me. I'm very surpriced to get this award and I never feel this nervous before. This award really brings pressure on me. But I did hear someone said: Huh? She (Faye) also can get this award?"
Will this award give you more confident to get the Best Actress Award in HK Film Festival?
"No la, please don't scared me. But if I get the award, of course I'll receive it. But I think too rationally because untill now I still think that I don't know how to act. Actually, filming Chinese Odessey 2002 is the movie that I felt most to get involved with, where I did discussed the scripts with Tony Leung and Zhao Wei. During ChungKing Express I really didn't know what I was doing back then. Very blur. But I need to thanx Tony Leung as well because he's really a good actor. But whenever I asked for his idea on how to act, he always replied: You know how to act already."
Thanks to SimYi for the translation.
Today's news links:
Ta Kung Pao
Ming Pao News
NetEast
Oriental Daily 1
Oriental Daily 2

5 Mar 2003 -- Chinese Odyssey 2002 will be shown at the 27th Hong Kong International Film Festival that runs 8--23 April 2003. It will be shown at Cine-Art House (House 1) on April 17, 12.30pm. Tickets can be ordered online from the website, which also have a lot of other information about the film festival. The website is in English and in Chinese.
4 Mar 2003
Today's news links:
Ming Pao News
Ta Kung Pao

3 Mar 2003 -- Times magazine has a upcomming issue called "Asian Heroes 2002" and for this issue anyone can vote for their favorite Asian celebrity. All you need to do to vote for Faye is to go to the voting page and enter her name. You can do this one a day if you like too. The vote is open until March 30 and the 20 most wanted will go to a final "vote off" over who is the Hero of Asia.
2 Mar 2003 -- Not much happening these days, except for the snow melting away here in Munich.