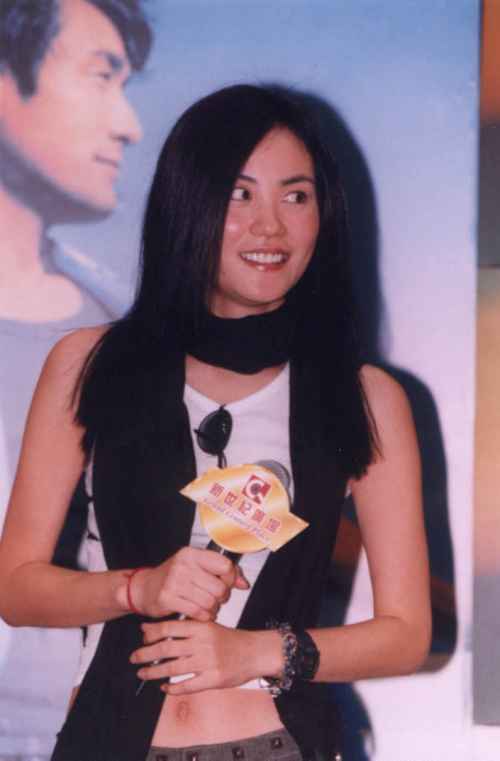 29 Aug 2000
Today's news links:
Nanyang Online
Nowok and Sina.com
Apple Daily
Oriental Daily 1
Oriental Daily 2
Oriental Sunday
Show8
28 Aug 2000 -- I have scanned the September issue of Elle Singapore. It's the same photos as in Elle HK last month but the article is in English. You can download it here (4,1 MB).
28 Aug 2000 -- August 29 is Nic's birthday so Faye has flown to Shanghai to celebrate Nic's birthday. Faye even spent US 3,500 per night for a presidential suite in a famous Shanghai hotel. &nbsp&nbspSource: Nanyang Malaysia
28 Aug 2000 -- Corey Lam has tranlated an article from Show8 regarding Nic's birthday. It goes like this.
Faye went to Shenghai to celebrate Nic's 20th birthday! Faye took yesterday afternoon's flight to come back from Shenghai. Eventhough the flight was delayed for couple of hours until arrived at HK International Airport; however, it didn't affect Faye's sweet mood!! She came out of the airport at 7 something pm. Faye was smiling sweetly all the time and her face didn't change black from all the reporters asking her questions!!

Reporters asked her if she came back from Shenghai. Faye didn't answer and said she won't do any interviews! The reporters asked Faye, "Your flight delayed and you are still in such a good mood?!" Faye replied, "I won't answer any questions!" But from the smile of her face, all the reporters can tell that Faye had a wonderful holiday!

After their meet in Shenghai on 8.26, Faye & Nic both went back to HK on 8.27 afternoon. However according to Show 8, Faye and Nic left HK again on the same night!!!

Faye and Nic went inside the Gate one after and other at 10:40 pm. Faye's car arrived at the airport a long time ago, but since Nic hasn't arrive yet, she was driving around the airport. Until Nic's car has arrived, they both stepped into the airport!!! Faye loves Nic so much! She has to wait for him before going in theairport

The flights leaving at around 11 something pm, mostly goes to Europe!! 2 of the flights were heading for Paris. Haha.. Faye & Nic must be heading to some place in Europe to celebrate Nic's first birthday after they are dating!!
Today's news links:
Show8 1
Show8 2

27 Aug 2000 -- I'm back home again and so is the news page. Here is the most intresting news from the last 10 days.
"The Sky Is No Limit" Pepsi 2000 cm is out in three new versions, posted at Singapore Fayenatics Home. || Cm 1 || Cm 2 || Cm 3 ||

Alex posted four ra-clip from Faye playing games at TVB, a total of 19 minutes. It was recorded in 1998 and broadcasted in 1999. Also in those clips you will find Na Ying and Lau Ga Ling. || Part 1 (4,9 MB) || Part 2 (4,3 MB) || Part 3 (4,2 MB) || Part 4 (4,5 MB) ||

Didar posted comments and views from the Jinan concert, you can read them here. Original article is here. Pics here.

Aaron's cantonese album will be released on Aug 29, it will contain the Cantonese version of the Pepsi song according to http://202.181.247.98/~coolman/unrelease.html.

The release of Faye's new album has been pushed forward to end of September.

The download section of Fayenews has a new clip from "Faye Faye very Faye" (in 1995) playing ping pong, you can download it here (4,5 MB). A second clip is from just after playing table tennis. Faye were talking about her acting in TV and Movie. Download that clip here (9 MB). Both those clips are DivX encoded, you need Windows Media player 6.4 or later and the DivX codec (0,5 MB) to view them.

Btw, you can download the complete Okinawa Rendez-vous without subtitles on the same site. 94 MB ...

Steve have scanned the Pepsi VCD covers, you can download them here. || Pic 1 || Pic 2 || Pic 3 || Pic 4 ||

Wubing got the following mail from Starhub:
The stars are in town for the annual Y.E.S. 93.3 Singapore Hits Awards! Be dazzled by Faye Wong, Gigi Leung, Nicholas Tse and Jacky Cheung and many more at the Harbour Pavilion on the 16th September. Simply recommend your friend and family members to sign up for any of our plans (Mail Plan or Infinity Plan) and both of you will be entitled to purchase a pair of tickets each to this spectacular event at a fantastic promotional price! The more friends you recommend, the more tickets you can purchase. Hurry!!! Promotion ends 3rd September 2000. For more details, visit http://www1.starhub.net.sg/promotions/radio-promo.html now!

If you're looking for Mp3 of Faye's songs, take a look here. Don't forget to buy the albums also.

You can vote for "Music Friendly Award on Lycos Taiwan here, but be aware it's in Chinese only.
Today's news links:
Sina.com 1
Sina.com 2
Sina.com 3
Sina.com Ent
Ming Pao
Show8 + Ra-movie (1 MB)

Earlier news links:
South China.com
Sina.com 1
Sina.com 2
Sina.com 3
Takung Pao
HK Commercial Daily
E23.com
Apple Daily
Twinkle
Masterso
Jinan infonet
Netvigator
HK Cyber.com

15 Aug 2000 -- Faye has held her performance in Ningbo now, and here is a report from Didar, fast as always with sharing her views :).
Faye held her concert in Ningbo, China. As usual, any type of natural disaster must GIVE WAY to the Sky queen.. When Faye arrived in Ningbo on Aug 10th, the rain already stopped... the weather was good until the concert is over then start to rain again!! The concert was a success as the sky give FACE to Faye.. ahha

"Before Faye's concert, she had interviews with the reporters, although no one asked about her and Nic's relationship but they did asked questions about her views on relationships. Faye did answer openly. Reporters asked her if her song NO REGRETS can still match her views on love! She said, "this is old news, as i get older, my views on love has change also.

Now i have no regrets to love but won't be obsessed with it!" She said she knows what she is doing.

During her concert, there were 40 000 people. However outside the stadium there were more than 10 000 of fans, some of them came as a whole family!! Although they can't see Faye but they can still listen to radio to enjoy Faye's performance!

In this concert, Faye can be really close to the audiences because there were more fans than estimated. The organizers can only add more chairs there for the seats are more and more closer to the stage. Therefore during Encore the people there were really afraid that the glow sticks thrown by fans to stage might hurt Faye!! Luckily none of them hit Faye.

The clothing for Ningbo is the same as in Australia, you know Faye where got time get new concert clothings... she is so busy. But clothing not that important.. what is important is the concert not cancelled and 50 000 fans came to support Faye. China fans really crazy over Faye.. she is that popular! Her schedule is so busy that they can only fit one night..

Faye will head down to beijing soon and also to na ying's hometown.. Faye go back beijing for work la..
15 Aug 2000 -- I'm going on vacation - again. To Thailand and maybe Singapore this time. The news won't be updated for another 10 days or so, please visit Fayenews meanwhile for the latest news.

Today's news links:
Sina.com
Show8

14 Aug 2000 -- Faye's record label EMI plans to release a compilation CD sometime in the near future, containing mostly concert songs (actually ALL concert songs) of Faye. More to follow.

Today's news links:
Show8
Sina.com
Day.com

13 Aug 2000

Today's news links:
East Citi (Okinawa review)
Udn News
Yahoo News
Sina.com 1
Sina.com 2
Apple Daily
Show8

12 Aug 2000 -- Steve has bought and scanned 23 pictures on the promotion activitiy of Okinawa Rendez-vous. You can get them by clicking the links. || File 1 || File 2 || &nbsp&nbspSource: Fayenews

12 Aug 2000 -- Show8 reports that Faye left for her conser in Ningbo now, the hurricane left for Japan.

Faye said: "No matter Ningbo having hurricane or not I'm going there what so ever. I promised Ningbo to go, so I must go"

She was at the airport today and her face looks very happy today. The reporter ask Faye what wish did she make on her birthday. Faye said If she told everybody then the wish won't be effective.

A young kid were following the reporter to go after Faye taking pictures. Faye ask: "Kid, which news station are you belongs to ah?" The kid was shocked and stop taking picture.

At the end, Faye had to to leave. She did something shocking to all the reporter. She turns around and show a smile face and say Good Bye to everybody ^____^&nbsp&nbspSource: Fayenews

Today's news links:
The Sun HK
Oriental Daily
Apple Daily

11 Aug 2000 -- The new Pepsi posters are out in Hong Kong, click the links if you wanna view them. || Pic 1 || Pic 2 || &nbsp&nbspSource: Fayenews

11 Aug 2000 -- Have u been bitten by the Okinawa Prettyfly? If so these off-topic tid-bits may interest you...

http://www.well.com/user/nobumasa/opinion.html
The above link, you'll see that Okinawa was not part of Japan, some argue that it still isn't.

http://www.well.com/user/nobumasa/
This website is done by an Okinawan lady, simple and informative, you find out things like Karate (the martial art) originated in Okinawa!

http://www.virtualokinawa.com/tour/manzamo/
This above link shows u MANZA!!!! The place where Okinawa Rendezvous was filmed! As you may know, Okinawa is a LARGE island, with only abt 1.2 million residents. MANZA was the movie's location!!! See the ANA hotel? well, you'll see it in the movie!!&nbsp&nbspSource: Yilin at Fayenews

Today's news links:
Show8 1
Show8 2
Show8 3
Takung Pao
Wen Wei Po
The Sun HK
Misc newspaper scanns:
Unknown, sorry
Ming Weekly
Chang Pao
Dong Fang
Pepsi, unknown paper

10 Aug 2000 -- Show8 has updated their news report on Faye Birthday on 8th Auguest. Katie saids Faye was busy filming for the last half year. Therefore she is now really busy working on her new album. On her birthday she didn't finish her recording until midnight. Faye thinks she can celebrate her birthday and play anytime, but to get the work done for us before due date is more important.

Some of Faye's co-worker and TongTong bought a little cake in the afternoon to the recording studio and made a little party for her. Faye of course feel her daughter sweet! After the little celebration, Katie set TongTong back home to take a rest. Also tons of reporter has follow them. As you can see in the clip.

Rumour saids Faye's best friend Na Yang are breaking up friendship becasue Na Yang doesn't like Faye to be with Nic. Katie and Faye originally plan to have dinner after her recording. It was too late so they canceled the appointment.

Big pictures from the article can be download over here.&nbsp&nbspSource: Fayenews

Today's news links:
Netease
Apple Daily

9 Aug 2000 -- Take a look here, it's Faye's old home!

9 Aug 2000 -- Odun bought and scanned the "Okinawa Rendez-Vous Photo Book", take a look and enjoy. If you like it you can eighter download it (6,2 MB) or buy it from YesAsia.&nbsp&nbspSource: Fayenews

9 Aug 2000 -- GrooveAsia reports that Faye's boyfriend Nicholas Tse is to release his first album in Japan. It will be a compilation of fifteen of his greatest Mandarin and Cantonese hits from his eight albums. Speaking of Nic, he has also got an nomination for Singapore Hits Awards 2000 as "Most Popular Male".

Today's news links:
Show8 1 + Ra-audio (0,5 MB)
Show8 2 + Ra-video
Show8 3
Show8 4
The Sun HK
NextMedia

8 Aug 2000 -- Today is Faye's birthday, so I say "HAPPY BIRTHDAY, FAYE!!!"

Today's news links:
China Times
China Daily News
The Sun HK
Oriental Daily 1
Oriental Daily 2
Sina.com

7 Aug 2000 -- Now it's time to vote for Singapore Hits Awards 2000. Faye is nominated for two categories, "Most Popular Female Artist" and "Best Female Vocalist". Go to the voting page and click for Faye. If you want to read the rules you can find them here.&nbsp&nbspSource: Singapore Fayenatics Home

Today's news links:
Sing Tao
Ming Pao News + English translation
The Sun HK 1
The Sun HK 2
Oriental Daily Show8 + English translation

6 Aug 2000 -- Time Asia has an interview with director Gordon Chan over Okinawa Rendez-vous, very interesting. Try to find time to read it.

6 Aug 2000 -- Okinawa Rendez-Vous original soundtrack will be out on 10 august! 17 music track + The great pretender and 8 movie postcards!

6 Aug 2000 -- Auguest J-Phone Booklet cover image is out, you download it inside Gallery 3 at My Favorite Faye Wong.&nbsp&nbspSource: Fayenews

6 Aug 2000 -- Yahoo HK put together a section about Okinawa Rencez-Vous streaming video from the making of the movie, a picture gallery, contest and possibility to send a postcard as well. Go to Yahoo and have a look.

Today's news links:
EHK News
HK Film Critics Association
Show8

5 Aug 2000 -- Four brand new photos of Faye to watch here.

5 Aug 2000 -- You can download an audio version of the Pepsi duet with Aaron by clicking the link. Enjoy!

Today's news links:
Apple Daily
Weng Wei Po

4 Aug 2000 -- I totally missed to post this, sorry about that. The new Pepsi cm can be downloaded from Singapore Fayenatics Home. || Video 1 (4,5 MB) || Video 2 (1,8 MB) || Video 3 (1,7 MB) || Video 4 (1,2 MB) ||

4 Aug 2000 -- There is a really nice site about Faye if you go to Yesnow.com. They have news, information, pictures and other stuff. Go there and have a look.

4 Aug 2000 -- There is a new download section at fayenatics.org where you can get different pictures, interviews and ra-movies. Odun put it together.

Today's news links:
Netvigator
Sina.com
Wen Wei Po
Ming Pao

3 Aug 2000 -- Okinawa Rendez-Vous reached 7th place in the HK Cityline Top 10 Films last week, according to Hong Kong Films' on the web.

3 Aug 2000 -- Steve has scanned the covers from the just released Pepsi VCD. Click the links to view the scanns. || Pic 1 || Pic 2 || Pic 3 || Pic 4 || Pic 5 || Pic 6 || Pic 7 ||&nbsp&nbspSource: Singapore Fayenatics Home

Today's news links:
Apple Daily
Central Daily News

2 Aug 2000 -- Time to vote for Faye in TVB8 Voting online. The voteing is open until August 13. Follow these steps to find where to vote for Faye.

Top 10 Songs:
http://www.tvb.com/tvbi/galaxy/billboard/page1.html
Vote for Faye's Spectacular #29. Then click the first box from the left. (there are three boxes on the bottom: first box is to vote, second is to clear, and third is to leave).

Favorite Male/Female Singer:
http://www.tvb.com/tvbi/galaxy/billboard/page2.html
First scroll bar is for the male. You guys pick whatever... The second scroll bar beneath the first one is the female singer. Faye is listed #17 (¤ý µá). Don't pick the wrong person!! When finished, click the left box on the bottom.

Favorite MTV, and newcomers:
http://www.tvb.com/tvbi/galaxy/billboard/page3.html
Fist scroll box: For new people. Second: For favorite group. Third: Favorite duet. Fourth: You gotta do this some because Faye's Spectacular MTV is nominated. It is listed #10 with Susie Au's name there.

Fav song, lyrics, arrangement, etc.
http://www.tvb.com/tvbi/galaxy/billboard/page4.html
Fist scroll box: (favorite melody): Spectacular listed #25.
Second scroll box: (lyrics): We gotta pick FAYE! She is listed as #29
Third scroll box: (arrangement): Whatever...
Fourth scroll box: (producer): Faye and Alvin! #28
When done, click the left bottom box again.

Thanks Kiwijen for the guidelines how to vote.

2 Aug 2000 -- You can listen to Faye's new song "New Tenant" by clicking here.&nbsp&nbspSource: Singapore Fayenatics Home

2 Aug 2000 -- 2 Aug 2000 -- Anita C has scanned two more pictures from Ichiban and they are as good as the previous once. You can view them on my updated Ichiban page.

Today's news links:
Nextmedia 1
Nextmedia 2
HK Commercial Daily English translation
The Sun HK English translation

1 Aug 2000 -- Faye's new song "New Tenant" is written by Faye as reported on July 29. This song will be filmed into a movie with 4 other songs composed by Faye in the new album.&nbsp&nbspSource: Didar-natic

Today's news links:
Show8
Sina.com
Sudden Weekly
Nextmedia 1 (picture gallery)
Nextmedia 2 (picture gallery)